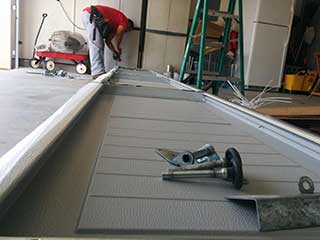 Ensure Your Door Is Healthy
While you likely have other projects for your home that need to be taken care of, make sure you don't put off any garage door repairs for too long! Even if it's still working now, it may not be soon enough. Using your door when it's having troubles with its parts increases the stress on them and makes them break down even faster, creating further problems. That's why getting it taken care of as soon as possible is for the best.
We'll Get Your Panels Like New
Your garage door makes up a huge portion of the front of your home, so keeping it pristine is vital for a good first impression! If any panels of the door have cracks or dents from an accident, we can easily repair the issue or replace the panel completely with the appropriate size and color. Our team is familiar with all major brands from Clopay to Amarr, so whatever type your door is, we can help!
Assure Your Door Is Moving Smoothly
The rollers over your garage door help it slide along the track and may be the problem if it has started to slow down and grind along instead of slipping easily over them. We'll carefully pry open the track to get to the rollers and see if they simply need some repairs or require replacements. In either case, we'll have it done before you know it so your door will work smoothly again!
Track Repairs And Replacements As Well
It's not uncommon for the track of your door to get dented or tweaked over time with use and make it more difficult for the door to move along it. The door may even pop out of the track in a spot, creating even further problems! Our technicians will inspect the track thoroughly to determine what's causing the issue and get it repaired, or carefully replace the track entirely if need be.
Contact Us Now
Garage Door Repair Cornelius is here to help get your door back in shape again!
We also offer:

Garage Door Troubleshooting Services

Screw Drive Opener Replacement

Residential Garage Door Replacement

Emergency Garage Door Services