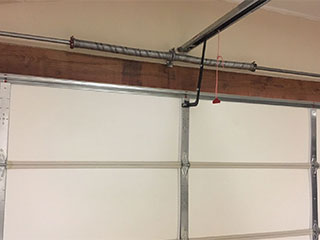 Your Garage Door Springs Are Vital
If you've ever manually lifted a garage door you'll know that they're much heavier than they might appear! The reason your door's system is able to pull it up so easily is thanks to the springs, which act as the muscle needed to get it open. This is why it tends to be noticeable when there's an issue with the springs, with indications such as the door struggling to move and jerking a lot in the process, and it falling down to close rather than lowering slowly. If you've noted these signs, it's time to have your springs looked at! It's best to do it now, rather than wait for them to break completely later and leave your door unable to move.
How Do Different Kinds of Springs Differ?
The main difference between extension and torsion springs is in how they work, as well as their longevity. Extension springs are stretched out like a rubber band and doing so builds up tension that translates into energy. However, being pulled like this daily, strains the springs, and they wear down much more quickly. They're also liable to cause damage when they break, thanks to snapping and ricocheting when they do. Torsion springs, however, simply twist up to store energy and last longer because of it, as are also less likely to cause harm if they break.
We Offer Fast, Excellent Services
Our team of trained technicians can take care of all of your spring's needs in no time, no matter what kind they are! They may just need some adjusting after shifting over the years, or perhaps are too worn and need to be replaced entirely. In either case, we'll do so safely, which is why letting professionals take care of it is highly advised. DIY is far too dangerous when it comes to springs, so it's best to allow us to make sure it's done properly and carefully!
Contact Us Now
Call Garage Door Repair Cornelius to get your door working smoothly again!
Count on our team for:

Bottom Seal Rubber

Oil Tempered Torsion Springs

Noisy Doors Silenced

Garage Door Weather Stripping